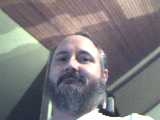 Mark Linimon
3267 Bee Caves Road #107
PMB #121
Austin, TX 78746-6700
USA


Retired software engineer, music fan(atic), cat owner.
Ah, what a stale old site. HTML 0.x for the win.
My main hobbies these days:

Finally, here's a picture of one of the cats that used to own me. She's "gone to be with St. Francis" now, but you can still read her views on how I ran things here.
This page not optimized for any particular browser.







---
©1997-2018, Mark Linimon. All rights reserved.
Last updated Mon Jan 29 20:00:50 UTC 2018 .